Your property is the most important asset you have, so when you're ready to begin your next project, call us!  Our motto is "If you can imagine it, we can DO it!"  

I'm the guy with the White Shirt! Our trained staff understand that the customer always comes first.  They work safe and hard to ensure that your dream becomes a reality!

We are fully licensed and insured.  We work hard to finish each project on time and under budget.  Our long list of happy customers is proof of our quality of workmanship!




P.O. Box 156

Remer, MN  56672

U.S.A.

Phone: 218-566-2913

Cell:     218-838-1862

Fax:     218-566-3411

Email:

Changemyland@hotmail.com


G.S. Cabin back yard!

Created a tiered yard with rock wall, rock stairs, and a campfire pit!


"Perfect job!  Smooth as a table top and the perfect amount of crown!"

- BP, Remer, MN.

Schedule a Free Estimate

(Click Here!)

1. Customers come first.

2. We return calls & emails promptly.

3. We do what we say we're going to do, within an agreed timeframe.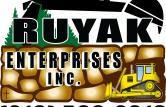 "I can assure you that we can help you with any project you have and you will be VERY pleased with the results!"

Marc Ruyak

Owner/President



  Before                 After

(click picture to enlarge)

IS YOUR DRIVEWAY/ROAD A MESS???

Don't fight the mud any more!!

We have MANY low cost options to fix the problem and we have CRUSHED CONCRETE!

We also offer all of the quality services listed below.